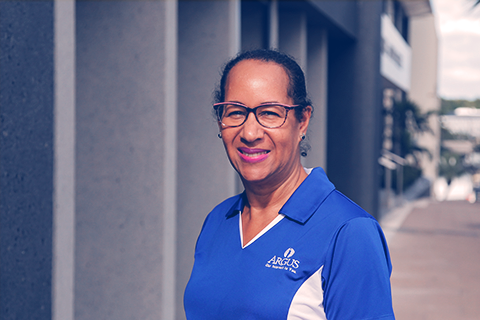 Those suffering with chronic conditions may find it hard to get a handle on their health with frequent visits to the doctor's office, several different medications, and a lot of new information to absorb.
Enter Gloria Burgess, a registered nurse and Argus Thrive. Case Manager who, in collaboration with their healthcare professionals, can provide eligible members with a comprehensive plan, guidance and encouragement, steering them toward self-management skills and improved overall health.
For Gloria, this role is a new but familiar one. Formerly a programme manager at the Department of Health's Maternal Health and Family Planning Clinic, Gloria has extensive experience directing clients toward helpful resources within the community to better their health both in the short and long term.

What is the role of a Thrive. Case Manager?
As a Thrive. Case Manager, Gloria wears many hats – from assessing clients to monitoring their status and acting as a patient advocate throughout the programme. She also recommends supportive services for rehabilitation and addresses preventative measures, such as diet and exercise.
"It's collaborative – I'm dealing with the patient and their family, while also working with the physician on a continual assessment of their progress, making sure that the services are coordinated in the community," says Gloria, who draws on her nursing past and broad knowledge of the healthcare sphere to support Thrive. members.
"For example, with a diabetic, I would assess how much they know about their condition and step into the role as educator. Do they need equipment? A dietician? Sometimes clients need to go abroad for treatments or surgeries, so in that case, I would help facilitate their return, making sure that they have everything that they need."
This education extends to close family members and caregivers so they can recognise when to intervene. Gloria is on hand to communicate with the patient and their families, making sure that they have up-to-date information and access to treatments. The programme empowers individuals, ensuring they know as much as possible about their condition to make a lasting change.
To qualify for this voluntary programme, an Argus member might be dealing with chronic illnesses such as diabetes or asthma, may have had to go abroad for care, may be categorised as a high-risk pregnancy or need assistance with weight management. Your Case Manager may also contact you directly as your claims data may identify you as a suitable candidate.

Continuing to

Thrive.

during COVID-19
A lot of things have paused during the COVID-19 pandemic, but chronic health conditions haven't — and neither has Gloria.
While Thrive. sessions are normally face-to-face, Case Managers have shifted these meetings to virtual ones, in order to avoid interruptions to the programme during the pandemic.

"Long-term wellness and preventive health are incredibly important, no matter what else may be going on in people's lives," Gloria says. She and her colleagues will continue serving members as the situation evolves, making adjustments to the service as necessary to ensure they follow the government of Bermuda's COVID-19 directives. (Members can check for the latest updates here on our website.)
Helping our members Thrive.
Looking beyond the pandemic and toward her patients' futures, Gloria scans the horizon for medical advances that could help Thrive. members live longer, healthier lives.
"I make sure that I continually update myself on any new treatments and any new equipment that might be on the market," she says. "It's a multifaceted, team approach to holistic care. We string together all the health care providers in the community to try and keep the person as healthy as possible and limit any unnecessary visits to the hospital."
Thrive. Is a well-rounded programme that offers members a nurse in their corner and an advocate- someone who can speak to the doctor - on their behalf. Not only do members get education and their family's support, but at the end of the day, our members have reassurance that people like Gloria are there for them.
"Chronic diseases can be very scary. Knowing they don't have to struggle through it on their own is going to lift the burden off their shoulders a little bit."
While some patients may be intimidated when they go to their physicians, a case manager is right there to encourage all questions are asked and that the answers are explained in a digestible way because at the end of the day, knowledge is power.
"I like the word 'thrive.' We may not be able to rid them of their condition or disease, but we want them to be aware of it in order to address it in the best way possible so that they can thrive."
*Johns Hopkins Medicine International ('JHI') provides consultation and advice on the Argus Thrive. Case Management Programme.